WATER PROOF ADHESIVE
This is a brush on clear adhesive that resists moisture. The red formula is a thicker formulation of the adhesive but they are both the same. Comes in 0.5 Oz. bottles.
APOLLO ADHESIVE REMOVER
This is an oil based solvent that is excellent for from excess adhesive residue left behind on the scalp and hair piece. Comes in 4 Oz. bottles.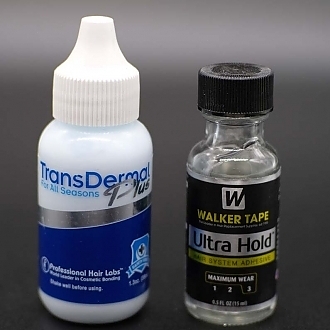 ADHESIVE
This is an adhesive that is specifically formulated for use on lace front or lace net hair pieces. Comes in 1.3 Oz. bottles.
SOOTHEZE ADHESIVE REMOVER
This is an alcohol based adhesive remove formulated to remove adhesive residue and excess oils from skin. It helps fresh adhesive adhere better to skin allowing it to last longer.
WE ALSO OFFER A FULL LINE OF DIFFERENT TAPES